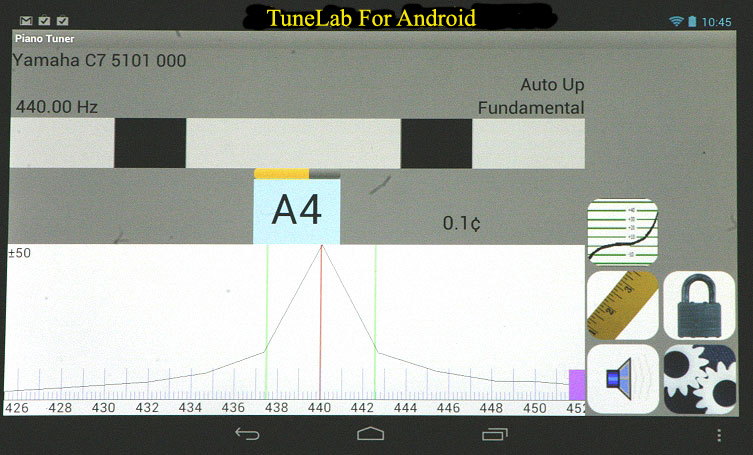 Free Upgrade to Version 2.3
TuneLab is Professional Piano Tuning software for concert Piano Technicians.

Students will find it helpful in checking their tuning with TuneLab.
They can use TuneLab to set intervals so they can hear the beats, and then try and attain the same results aurally.

Domestic Tuners will find it takes the strain out of tuning pianos with old strings that beat and wow throughout the compass.
Use TuneLab to set the first string and then tune the unisons by ear.
TuneLab will assist you to do more tunings per day and prolong your career, especially as the private pension funds are doing so well!!!

Concert Tuners will find TuneLab very helpful in those situations where the peace and quiet you were promised, is shattered by roadies assembling the stage and even the erection of steel security fencing with pneumatic spanners, which happened to me at the Nottingham Arena.

I do not advise that you purchase TuneLab software or any other tuning software, and expect to take up piano tuning. It's not that simple!

You need a good grounding in aural tuning and technique first, so if the batteries run flat, or you get to your first tuning and find you have left your IPAQ back home on charge, you are still able to complete the your day's work. Joking apart, getting the piano in tune is only half the job. Getting the piano to stay in tune is the main requirement expected by the customer.

You should not tune pianos commercially until your tuning has been checked by a competent qualified piano tuner. The Piano Tuners Association exam is a good test, or you could attend the piano tuners course at the Lincoln College, Newark Campus.
For the visually impaired there is the Blind Piano Tuners Association Course.
www.uk-piano.org.